You have heard about people from Pakistan, India, and Turkey among the Muslim community who self-claimed as Prophet. Mostly such claims are not seen in Christians, Jews, etc. But in Malawi Shepherd Bushiri who is the multimillionaire leader of the Enlightened Christian Gathering (ECG) church, commands a large following in a number of African countries is a self-proclaimed 'prophet'.
In South Africa alone, he says the church has more than one million followers. Bushiri, known for his luxurious lifestyle and taste for slick suits, is often described as one of Africa's richest religious leaders. His wealth is valued at $150m and corporate jets, luxury cars and numerous properties are allegedly included in his belongings.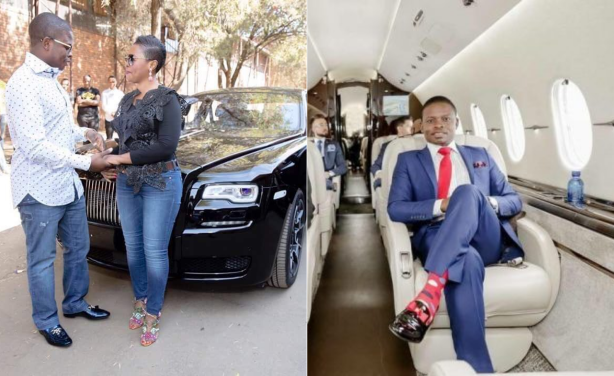 The best paying business with no capital requirement these days is undoubtedly the Religion based business. All one has to do is to claim something extraordinary and here you go.
The Claim
Raised in modest circumstances in the northern district of Rumphi in Malawi and spent his childhood in the nearby town of Mzuzu, Bushiri says that at the age of 10, he had a divine experience with a mystical force that prompted him to devote his life to the service of God.
Shepherd Bushiri and his wife, Mary, are facing charges of money laundering and fraud in South Africa. Meanwhile, South African authorities have confiscated the Bushiris' $355,000 property after they violated their bail conditions and failing to report to the South African police said.
But as he walked free outside the Lilongwe Magistrate Court last week, Bushiri said: "My right to life is more important than any asset in the world."
The non-denominational church is identified by Bushiri as a prophetic ministry focused on the idea that God cares and loves people and desires to talk to them personally. He appears to have helped patients with HIV, controlled blindness, and carried people alive from the dead. He seems to be walking in the clouds in one video posted online. Such stunts can also be seen in Pakistan by the number of "Peers", however, the only difference is that those Peers do not claim to be Prophet as their business is running smoothly without this alteration.
In the past, numerous individuals and organizations have revealed some of the well-known Phony Peers and Fakeers of Pakistan. What became aware after their arrests and apprehensions are that the six Kalimas of Islam are not even known by these peers and have been milking Pakistan's illiterate people for as long as 50 years.